Ready to make meal time
Getting dinner on the table can be stressful, so we've crafted the perfect solution…
14-day money back guarantee*
"Keep up the good work!"
I love this salad, so light and refreshing…and just took me about 10 minutes to make! I really like a lot of your recipes Holly, keep up the good work. I just got your Weekly Meal Planner and am looking forward to being more organized about planning meals and shopping. Thank you!. Di
"Wonderful yummy dishes"
I love your recipe site. You have such wonderful yummy dishes. Every time I prepare one of your recipes it's always a winner. Thank you. Carol
"A breath of fresh air"
This recipe is absolutely delicious! A breath of fresh air for my weekly meal plan. Easy, amazing tastes, and I used only what I had on-hand, it was still fantastic! New favorite in my home, as a meal, since it is so filling. Kimberly
Each week, you will receive a Spend With Pennies Meal Plan packed with delicious, family favorite recipes. You can easily use it on your phone, computer, or tablet!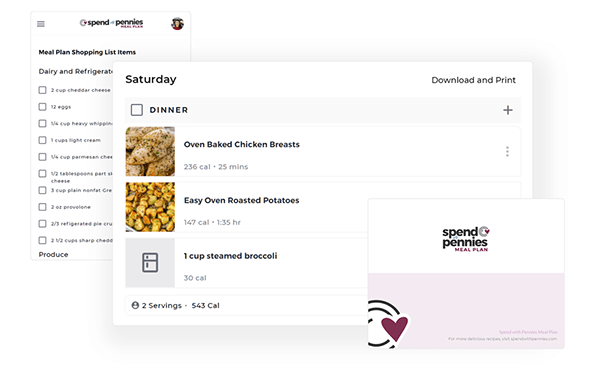 Fully interactive and customizable meal planning tools
Adjustable servings to fit your family needs
Weekly suggested meal plans
Automatically generated shopping list
Swap out meals or add your own favorites
Ready to print or access online
Printable shopping list
Access to thousands of recipes (ad free)
Our tools are easy to use and you can customize your meals to fit your budget and your tastes.
New to Meal Planning? No problem! Whether you've meal planned for years or if you're new to meal planning, you'll love to use our simple tools. Your menu, shopping list and more is at your fingertips.
Watch Video
Easy to Navigate on the go
Let's face it, life is busy. Now you can not only plan your meals, you can easily access your recipes, meal plan, and shopping list any time or place even on your phone! With our easy to navigate mobile friendly tools, your list is only a swipe away!
Save money buying only what you need
Less stress, you'll know exactly what is going on the table
Less food waste and impulse purchases
More time together eating meals you feel good about
Renewed excitement about meal time
Are you ready to sign up? Pick a plan below to get started:
14-day money back guarantee*
Look at some of the features and benefits you'd enjoy using our platform.
Today
See what's on the menu for today's meals, quickly access recipes for easy cooking and prep, and track daily food intake and calories if desired. An easy way to visualize your meals for the day.
Weekly Meal Plan
See an entire week's worth of meals, drag and drop items around, and customize your plan however you want. Use provided recipes or add in your own personal favorites.
Recipes
Thousands of recipes at your fingertips (and no ads!). Browse your saved and your favorite recipes, explore new recipes, and add in your own. Customize the number of servings and more!
Shopping List
Take your list with you and view it right from your phone! Make shopping for the week's ingredients a breeze. You can add your own items from laundry soap to dog food so it's all in one place.
Weight Tracker
We provide you with an easy to use chart to keep track of your weight. Simply add your numbers to track your progress.
Meal Plan Archive
We store every Meal Plan ever created since the day you sign up. Look back to find your favorites and make meal time stress a thing of the past!
Thank you for your interest in Spend With Pennies Meal Plan!
Hi, I'm Holly. Today's world is busy and at Spend With Pennies, we believe the dinner table is the perfect place for families to reconnect. Armed with delicious simple-to-make recipes and our easy to use meal planner, meal time stress is a thing of the past.
Sign up today to start creating custom meal plans that fit your family size, schedule, and most importantly, your taste buds.